Editorial
As reported here, Gun Owners in Virginia went to Richmond City Council, to ask that the mayor resign from an anti gun origination.
Philip Van Cleeve, President of VCDL
As a result, The Richmond Free Press reported on Councils concerns. Further, Delegate Joe Morrissey wrote the RFP a letter expressing concerns about law abiding gunowners…carrying guns.
I find this odd coming from someone that has such a violent, uncontrollable temper that as Richmond Commonwealths  Attorney, he  assaulted a fellow lawyer in the courtroom. Not just a push, an all out attack worthy of the best street thug.
That is not the only case of Mr. Morrissey attacking someone.
On July 3, 1999, Morrissey, an attorney and former Commonwealth Attorney, Tr. 412-413 stated to Wycoff, I
m going to kill you. I m going to beat your head in,

Tr at 17Accordingly, Morrissey attacked Wycoff, beating Wycoff s face and head with his fists, wearinga heavy ring. Tr. 61,178,184. Although Wycoff informed Morrissey, I do not want to fightyou, Tr. 179, Morrissey continued to attack Wycoff. When Wycoff attempted to stop theonslaught of blows to his face by hugging Morrissey, Tr. 52-53, Morrissey knocked him down to-3-the ground, continued to savagely beat Wycoff in the face. Tr. at 184, 185. When Wycoffattempted to crawl away from Morrissey, by turning over from his back to his hands and knees,Morrissey continued to beat Wycoff in the face and head with his fists, Tr. 53, 476, and grabbedWycoff s head by the hair and smashed his head into the corner of a brick wall. Tr. 185-186,After the attack and subsequent sanctions, Mr. Morrissey left the country for a time. One can only guess that it was to let the public have time to forget his actions. It must have worked.Joe Morrissey has come to VCDL meetings in a vain attempt to gain support.
Joe Morrissey at a VCDL meeting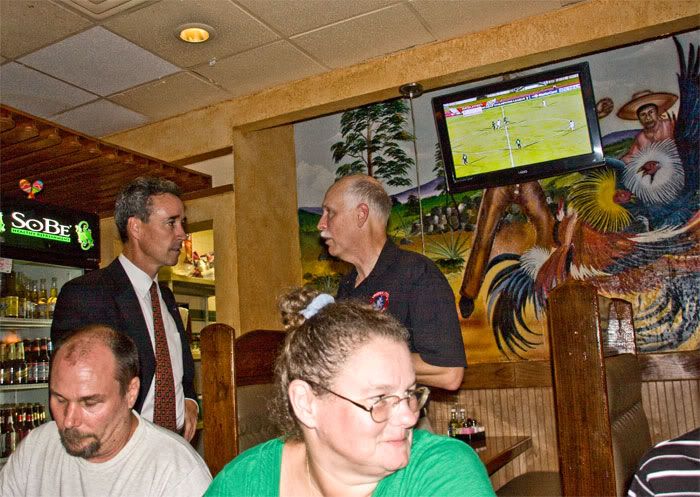 The simple fact is that Morrissey is a dangerous flake. To listen to him spew law and order is akin to hearing temperance and fairness from a white supremacy leader.
He has no business in the legislature and his very existence there, is a sad reminder that few good people are willing to run for office. All that's left in cases like this, is the trash like our esteemed Joe Morrissey.
Considering Mr. Morrissey's history, it's not unrealistic to expect him to again, attack one of his peers, this time  in the General Assembly. Hopefully, there will be Police Officers near enough to prevent serious injury or worse.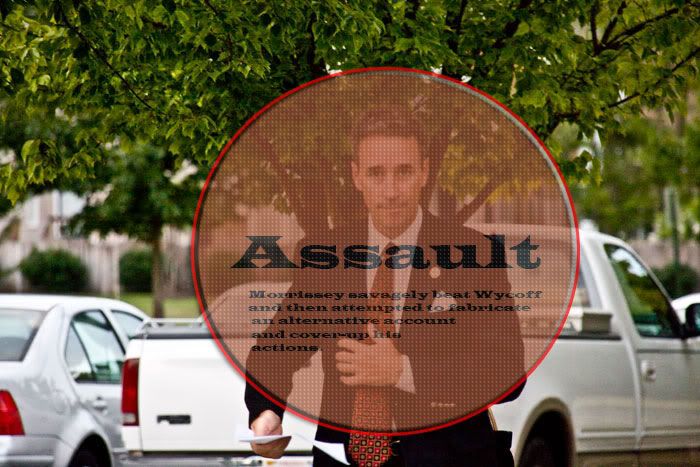 A little more about Joe Moeeissey.
Here's the record that Mr. Morrissey established for himself while an elected official and in the years since and on which he is not running:
1) Two wrongful convictions (that we know of) in four years as Commonwealth's Attorney costing each man 10 years of his life and state taxpayers hundreds of thousands of dollars in claims paid to the wrongfully convicted men: Troy Hopkins, claims bill for $229,419 cash plus $10,000 in free college tuition, http://leg1.state.va.us/cgi-bin/legp504.exe?061+sum+SB609; and Jeffrey Cox, claims bill for $350,000 cash and $400,000 annuity, http://leg1.state.va.us/cgi-bin/legp504.exe?021+sum+SB267. Compare this to Robert Horan's 4 decades without any wrongful convictions.
2) License to practice law in Virginia revoked on April 25, 2003, http://www.vsb.org/disciplinary_orders/morrissey_opinion.html
The Bar submitted a summary of Respondent's previous record regarding professional disciplinary matters which includes, three matters which were dismissed with terms, one private reprimand, one public reprimand, one six-month suspension, a three-year suspension (the underlying matter), and his disbarment by the United States District Court for the Eastern District of Virginia. The Bar requested that the Board revoke the license of Respondent, arguing that the circumstances of this case and his prior record demonstrate a lack of the necessary respect for his profession and merits the complete revocation of his license.
3) Disbarred from practicing before the federal courts in 2001 following 16 incidents of disciplinary problems that Morrissey had had with the courts, both state and federal, commencing in March, 1986 and continuing through the decision of the district court to recommend disbarment in August 15, 2000. The precipitating incident involved a violation of his probation in a federal criminal action in which he was convicted of a federal violation and sentenced to 90 days in jail and 3 years of probation. He lied to his probation officer about community service and tried to get a Habit for Humanity official to lie for him about it as well, by offering free legal services in exchange for falsifying his community service hours.
http://caselaw.lp.findlaw.com/cgi-bin/getcase.pl?court=4th&navby=case&no=021105P
4) On December 28, 1999, a three-judge Virginia court suspended his license to practice law in Virginia for three years, which was affirmed by the Virginia Supreme Court in Morrissey v. Virginia State Bar, 538 S.E.2d 677 (Va. 2000).On December 28, 1999, a three-judge Virginia court suspended his license to practice law in Virginia for three years, which was affirmed by the Virginia Supreme Court in Morrissey v. Virginia State Bar, 538 S.E.2d 677 (Va. 2000):
Applying these principles, we hold that the court did not abuse its discretion by suspending Morrissey's license for a term of three years. The evidence, which we will not repeat, clearly establishes that Morrissey has exhibited a pattern of disrespect for the judiciary, the rules of practice, and the laws of this Commonwealth. He has repeatedly been sanctioned because of his misconduct, as exemplified by the number of contempt of court sanctions that he has received. He has often exhibited disrespect for the authority of the courts in which he has appeared.

Contrary to Morrissey's assertions, he did not merely "aggressively" assert the rights of his clients. Rather, the record demonstrates that he has repeatedly acted in flagrant disregard of the ethics and standards necessary to maintain public confidence in the legal profession. A suspension of three years is appropriate to protect the public and deter others from committing similar misconduct.

We find no merit in Morrissey's contention that his prior record "is so remote in terms of time, place, and circumstances that it does not reflect upon Morrissey's current fitness to practice law." Our independent review of the record in this case indicates that during his career, Morrissey has exhibited a pattern of misconduct and a lack of respect for the dignity, civility, and integrity of the legal profession.
5) 1993 six-month suspension from the practice of law by a three-judge Virginia court for his handling, as Commonwealth's Attorney, of a guilty plea in a rape case, upheld by the Virginia Supreme Court in Morrissey v. Virginia State Bar, 448 S.E.2d 615,617 (Va. 1994). Here's how the VA Supreme Court described it in the opinon affirming the 3 year suspension of his license in 2000:
"In 1993, a three-judge court suspended Morrissey's law license for six months because of misconduct which constituted "dishonesty, fraud, deceit, or misrepresentation" in violation of former Disciplinary Rule 1-102(A)(4). Morrissey, while serving as Commonwealth's Attorney for the City of Richmond, arranged a plea bargain in a rape prosecution. Under the terms of the plea agreement, a felony rape charge against a criminal defendant was reduced to a misdemeanor, and the defendant's father paid $25,000 to the victim and $25,000 to charities designated by Morrissey. At a hearing before the Circuit Court of the City of Richmond, when the court accepted the plea agreement, Morrissey directed the defendant's attorney not to tell the court about the part of the plea agreement relating to the defendant's father's contributions to charities of Morrissey's choice. Morrissey also concealed this portion of the agreement from the victim, who had indicated to Morrissey that she wanted more than $25,000 as an "accord and satisfaction."

On appeal, this Court affirmed the order of suspension. Morrissey v. Virginia State Bar, 248 Va. 334, 343-44, 448 S.E.2d 615, 620 (1994). We stated that "Morrissey's carefully orchestrated scheme was designed to secure something of value to Morrissey — the possibility that members of the donee charities would express their gratitude in the form of political support in the forthcoming election" and that his conduct violated former Disciplinary Rule 8-101(A)(3)."
6) 2005, fired from his job teaching prosecutors in Australia because he failed to disclose his disbarment and license revocation: http://www.smh.com.au/news/national/secret-legal-tip-punch-the-defence/2005/08/24/1124562924779.html
And now Joe Morrissey makes law and criticizes others for their attempt to protect their families …from violent criminals. Ironic, isn't it