One of the best Virginia Hunting and fishing websites is Virginia Hunting Forum   http://www.vahuntingforum.com/ . Good people and it never really gets dull. Well, a group from the site went Cobia fishing with Captain Andy of Bay Country Sportfishing and wrote up a splendid account of the day.
You can find the full thing at http://www.vahuntingforum.com/showthread.php?tid=4403&pid=53424#pid53424
This past Friday, Brandon, Hunter, Jason, and myself took an all-day trip out on the bay with Captain Andy from Bay Country Sportfishing. And I have to say, it was one of the best experiences of my life to date.

We left the dock on the Full Draw with Captain Andy around 8:30 am. We fueled up the boat, and headed out towards the open water. Huge waves gave us a pretty bumpy ride, and I'm not gonna lie…it got pretty scary for a bit. 
It took about an hour to get to the middle of the bay, and Andy stops, climbs up on the tower, and the game was on. 
This trip consisted of sight-fishing for Cobia. Andy was on his top tower of the boat with polarized sunglasses (which I quickly figured out was a MUST for anyone who wants to know what everybody else is seeing in the water). Once he spots one, he grabs a pole, tosses the lure as close to the fish as possible, and hopes the fish is hungry. Once to Cobia is hooked, he passes the rod down to us to reel 'em in. Within the first hour, we were reeling in Cobia. Brandon had the first go, reeling in one that was barely under the legal size. We started off using bucktail jigs from C&B Custom Jigs. There were VERY few fish that Andy found that didn't take a stab at those jigs.
The smaller juvenile Cobia served a purpose, though. Andy has been appointed by the Virginia Institute of Marine Science to tag juvenile Cobia to track their growth and migration patterns. He told us that a Cobia he had tagged several weeks ago off the Hampton shores was caught recently off the coast of Reedville/Kilmarnock. How cool is that?

Every Cobia that we caught that was too small to keep was tagged and gently released by Andy.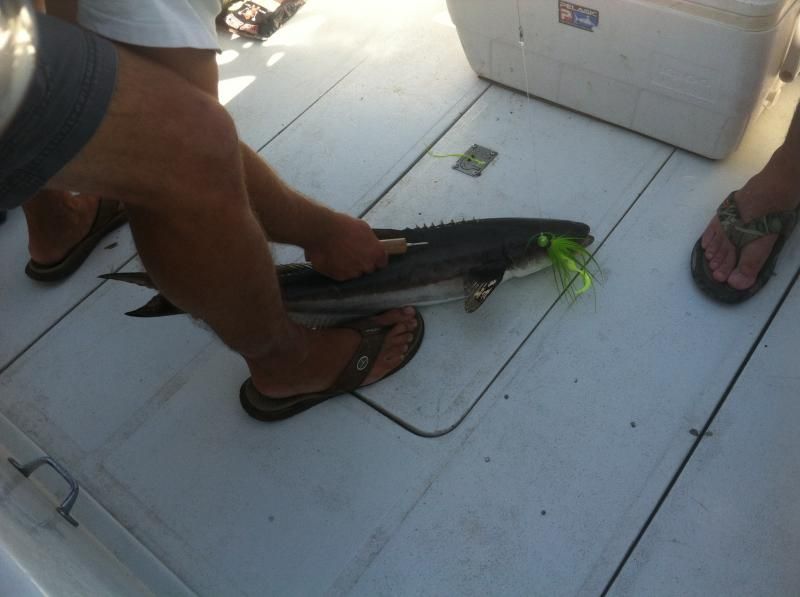 https://fbcdn-sphotos-e-a.akamaihd.net/hphotos-ak-xfa1/t1.0-9/10556391_10202056282479712_5717590431181698343_n.jpg
The second keeper was reeled in by Brandon, and we never got a pic of him with his trophy. 

Throughout the ride around the bay, we saw loads of rays, crabs, and even dolphins. The dolphins were being really playful, jumping out of the water, and there were even baby dolphins! (Secretly….the dolphins were my highlight of the trip, haha.)

By 3:30 pm, we had landed a total of 13 Cobia. Two were keepers in the cooler, and 11 were tagged for research by Andy for VIMS. Then Andy spots a big 'un over the bow. He throws a jig out, and hooks her. For a split second, we all caught glimpse of her jumping out of the water like an angry shark (see Brandon's video at the end!). Andy handed me the rod, and I fought the old girl for 25 minutes. Every time I got her close the boat, she dove down aggressively. She dove 3 times until we finally wore her out, and Andy was able to finally hook her into the boat. She weighed in at 38 lbs, about 58″, the biggest fish I'd ever landed on a boat.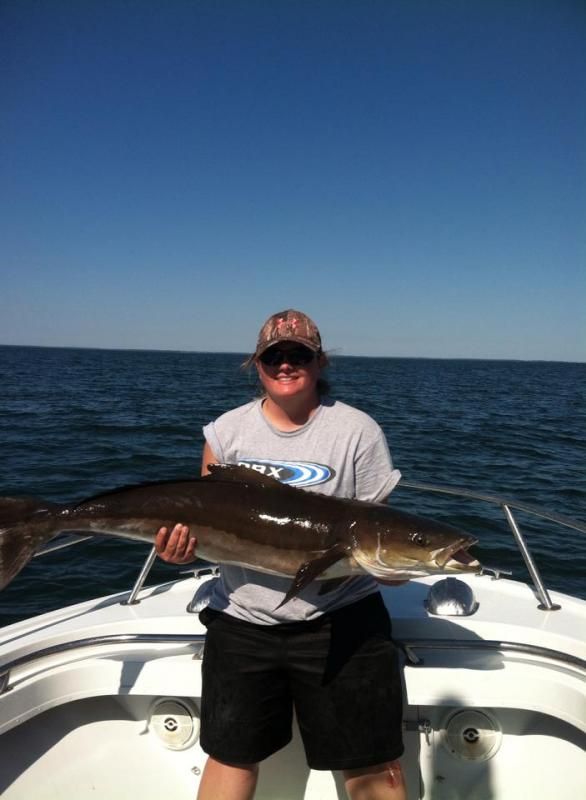 Once we got back to the dock, poor Andy had to sit down for the first time and take a breather. When he finally got his second wind, we carted the fish up to the cleaning station, and he took the time to filet, clean, and package our fish for us. There was a group of fellas that came by with their catch, and Andy cleaned those, too. What a great guy!

Overall, it was a GREAT day on the bay for some Cobia fishing. Everybody went home with some whopper Cobia fillets, and we even left some for Andy to thank him for all his hard work and expertise.
And, it didn't take Brandon long to chow down: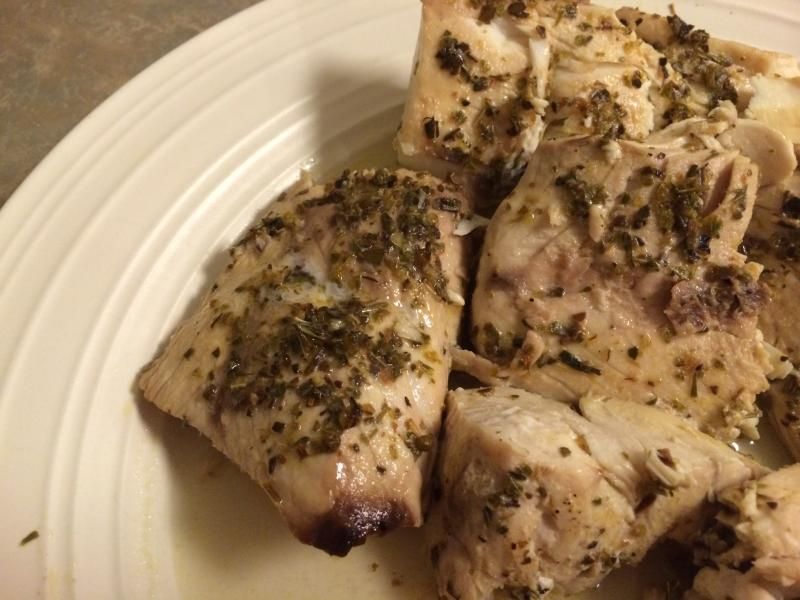 Ok, you've read this far…now check out the video Brandon put together!
https://www.youtube.com/watch?v=6rwhmAucSlY